A.J. Tata Presenting Chasing the Lion
Tuesday, June 22nd at 6:00 PM
From A. J. Tata, "Chasing the Lion is a taut thriller that delivers blistering action and mind-blowing tension. Garrett Sinclair is a powerhouse of a hero, and Chasing the Lion is exactly the type of smart and propulsive tale that will keep readers turning pages and anxiously awaiting future installments. "
—Mark Greaney, #1 New York Times bestselling author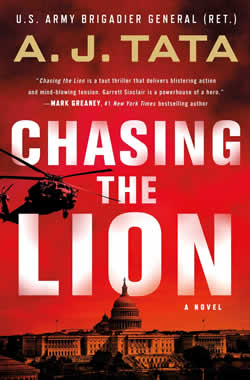 As a child, Dariush Parizad survived Iran's Islamic uprising, becoming a symbol of the revolution. Named The Lion of Tabas by the ayatollah himself, Parizad rose through his nation's military to become a lethal soldier and brilliant tactical commander. Now a general, he leads Quds Force, an extremist terrorist organization targeting America and its western allies.
The United States has just uncovered a biochemical weapon, Demon Rain, developed by Parizad's group. A psychoactive viral agent, it attacks a person's nervous system and renders them susceptible to mind control. Parizad plans to unleash Demon Rain within Washington D. C. on Inauguration Day during the swearing in of the country's first female president to spread fear and chaos, turning civilians into weapons.
Assigned to stop the terrorist strike are Army Lieutenant General Garrett Sinclair and his Joint Special Operations Command team. Across the Middle East, Europe, and the U. S., Sinclair pursues Parizad only to discover a deeper conspiracy—involving a disturbing revelation that his wife may not have died from cancer but was murdered as part of a plot against the president-elect. Separated from his teammates and unsure of who he can trust, Sinclair is on a mission not only to save his country, but to avenge his family against Parizad with extreme prejudice…
Kristin Hamel Presenting The Forest Of Vanishing Stars
Tuesday, July 6th at 6 PM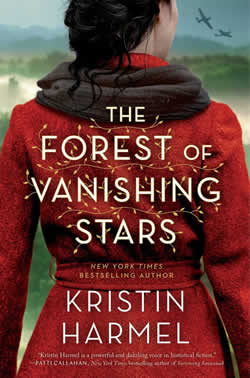 The New York Times bestselling author of the "heart-stopping tale of survival and heroism" (People) The Book of Lost Names returns with an evocative coming-of-age World War II story about a young woman who uses her knowledge of the wilderness to help Jewish refugees escape the Nazis—until a secret from her past threatens everything.
After being stolen from her wealthy German parents and raised in the unforgiving wilderness of eastern Europe, a young woman finds herself alone in 1941 after her kidnapper dies. Her solitary existence is interrupted, however, when she happens upon a group of Jews fleeing the Nazi terror. Stunned to learn what's happening in the outside world, she vows to teach the group all she can about surviving in the forest—and in turn, they teach her some surprising lessons about opening her heart after years of isolation. But when she is betrayed and escapes into a German-occupied village, her past and present come together in a shocking collision that could change everything.
Inspired by incredible true stories of survival against staggering odds, and suffused with the journey-from-the-wilderness elements that made Where the Crawdads Sing a worldwide phenomenon, The Forest of Vanishing Stars is a heart-wrenching and suspenseful novel from the #1 internationally bestselling author whose writing has been hailed as "sweeping and magnificent" (Fiona Davis, New York Times bestselling author), "immersive and evocative" (Publishers Weekly), and "gripping" (Tampa Bay Times).
Les Standiford Presenting Batle For The Big Top
P.T. Barnum, James Bailey, John Ringling, and the Death-Defying Saga of the American Circus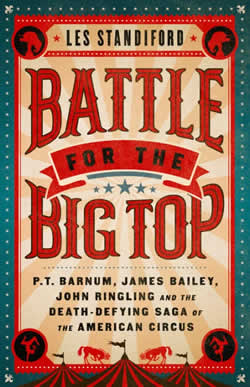 The untold story of three Golden Age titans and the confrontations, cutthroat business strategies, and eccentric personalities that built the Ringling Bros., Barnum & Bailey Circus

Millions have sat under the "big top," watching as trapeze artists glide and clowns entertain, but few know the captivating stories behind the men whose creativity, ingenuity, and determination created one of our country's most beloved pastimes.
In Battle for the Big Top, New York Times–bestselling author Les Standiford brings to life a remarkable era when three circus kings—James Bailey, P.T. Barnum, and John Ringling—all vied for control of the vastly profitable and influential American Circus. Ultimately, the rivalry of these three men resulted in the creation of an institution that would surpass all intentions and, for 147 years, hold a nation spellbound.

Filled with details of their ever-evolving showmanship, business acumen, and personal magnetism, this Ragtime-like narrative will delight and enchant circus-lovers and anyone fascinated by the American experience.